Indians breathe a sigh of relief whenever oil prices fall. There are two things you must be wondering; Why are the prices falling and how would it benefit India?
Let us first explore the first question:
When the Russia-Ukraine War first started, analysts predicted that oil prices would skyrocket and touch $200 a barrel on supply concerns. Prices did cross $120 a barrel, but the last two months alone saw a decline of more than 30% in prices and oil went below $90 a barrel. This fall could be attributed to several reasons of which the following are some:
China's declining imports of crude oil due to continuing lockdowns and effects of pandemic still reeling about.
Saudi Aramco's announcement to boost oil production by 1 million barrels per day and increase capacity to 13 million per day by 2027.
Chances of revival of Tehran nuclear deal: If the deal goes through, the world will be open to an oil supply boost from Iran.
Recession fears that skew the oil demand outlook to the negative side.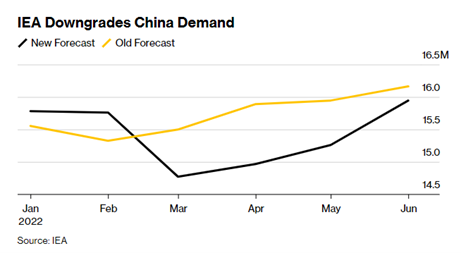 Demand revival in China and any reversal of a slowdown in the economy would take at least 3 years to peak.
Looming fears of recession and talks of increase in output is causing oil prices to decline. Adding to this, is the latest report on the APAC region by Moody's claiming that global oil prices are expected to fall to less than $70 a barrel by end of 2024.
That said, we should wait and see if there is any possible production cut by OPEC. This might lead to a supply crunch and an increase in prices. For now, additional supply and China demand outweigh the fear of a supply cut.
Now to our second question:
A fall in oil prices translates to reduced input costs for shipping & transportation, chemicals, fertilizers, agriculture, commodities, and the industry in general. This is quite pronounced for India, as it is the world's third largest importer of crude. In fact, India imports close to 80% of its crude requirements. Lower oil prices will thus translate to lower cost of imports leading to a narrow current account deficit.
Falling Oil Prices might also mean that inflation is already peaking, though still high.
This is not just the case. Cooling oil pressures will improve margins for companies that are directly impacted by oil prices. Aviation, Paints, Petrochemicals, Textiles, Cement etc. are some of the sectors that are expected to benefit from falling oil prices as oil constitutes a huge part of their raw materials.
Let us find out which sectors are the most impacted by the fall in actuality.
Correlation of Crude Prices with Different Sectors

We can see that Paints and Textiles are the more impacted by the fall compared to other sectors with a negative correlation of -0.56 and -0.94 in the last 6 months. Auto has joined the bandwagon with a -0.38 correlation, second only to Consumption.
Unlike general assumptions, we can see that oil prices do not have a perfect correlation (direct or inverse) with equity performance. So, it may be a good idea to closely watch the above-mentioned sectors for margin improvements over the next 3-5 years.