Gold has been considered one of the 'go to' investments by many for a long time. But this theory has been challenged time and again, especially after it briefly lost its "safe haven" status after the 2013-15 fall. Let us re-visit this theory again and determine how gold can be a good investment strategy right now.
Shown below is the plot of Gold's performance during different inflationary periods and its comparison with Nifty 50 and S&P 500 during the same.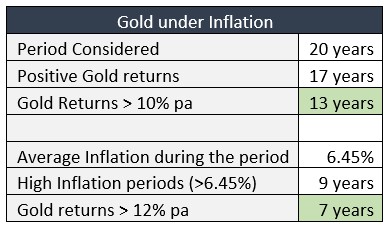 Of the 9 high inflation periods during 2002-2022, Gold has given returns greater than 12% in 7 years and outperformed Nifty 50 in the following 5 years: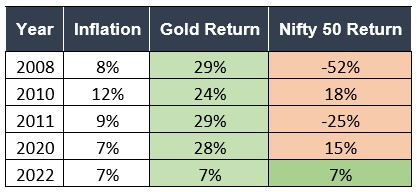 Global Gold Demand Trends

The supply has increased only by 1% while demand witnessed a huge growth.
Jewellery Demand
Global Jewellery demand, in which India leads, constitutes nearly 50% of the total demand.
China's Gold demand firmed but only marginally.
This is followed by investments in gold bars/coins where India saw a 6% growth to China's 8%
Central bank purchases led by Turkey increased the demand for the yellow metal.
Gold's past performance during periods of high inflation proves that it is still the best bet against inflation. A favorable demand-supply trend makes it even more compelling to invest in the metal at present.
All in all, Gold is a good addition for a diverse portfolio and an effective hedge against inflation.
"It can be seen that, Gold is now on a roll with favorable demand and supply conditions (according to the World Gold Council). As such, it might be a good idea to add it to our existing portfolios with Gold linked instruments which offer comparable returns. The returns of various Gold vehicles are compared below:

For those SGB's which were launched more than 5 years ago, premature redemption prices announced by RBI are taken as sale prices to avoid problems of liquidity.
All returns are as of 30th Nov 2022.
While gold (bullion) has performed over longer periods, participation to capture gain through investment is a major challenge, as buying gold and storing is not an optimal solution. Market instruments – SGB's and Gold funds seems to be good vehicles to participate in Gold investments."