Mutual fund performance is always benchmarked to respective Indices and many a time, their performance hovers around the benchmark. It is always a mix of positive and negative alphas in general. Very rarely, we witness all the funds performing better than their benchmarks.
It's not the case this time, thanks to a selloff in Adani group stocks last month. Indices took a hit due to weightage of Adani stocks in the respective index. Having a nil exposure to Adani stocks or limiting the exposure to less than the index weightage, all funds generated positive returns over their respective benchmarks.
Here, we have compared the average returns of most of the Mutual funds with their respective benchmarks during the unfolding of the Adani Saga. The period considered is from 24th Jan 2023 to 24th Feb 2023.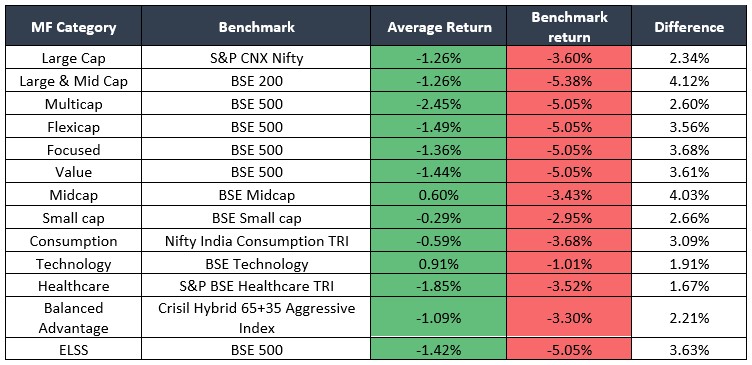 For the first time, we can see mutual funds collectively outperforming the benchmarks, most of them by more than 2%.
All said and done, the fund managers are quite happy with such a windfall alpha for MF industry on the whole.